Carolyn Jane Walden (nee Cauffield) passed away Thursday, December 15, 2016, surrounded by her family. Her pain is gone and her spirit is free. She was born May 6, 1950 and grew up in Richfield, Ohio where she developed a lifelong love of horses.

She successfully participated in hundreds of horse shows and later trained handicapped children to ride. Her keen interest in photography won many prizes at the Medina County Fair. She enjoyed antiquing all over Ohio with her husband.

She is survived by her husband, Frank and his children, April and Frank; brothers, John (Patricia) Cauffield and Jim (Jennifer) Cauffield and sister Catherine (Angelo) Nasca; she was a loving aunt to eight nieces and nephews and five great nieces and nephews. We all loved her dearly.

Preceded in death by her parents, Dr. Edwin and Jane Cauffield.

A Memorial Service will be held at 3 P.M. Saturday, January 14, 2017, at Waite & Son Funeral Home, 765 N. Court St., Medina. The family will receive friends two hours prior to the service from 1 until 3 P.M., Saturday, January 14, 2106, at the funeral home.

In lieu of flowers, memorial contributions may be made to Medina County SPCA, 8790 Guilford Rd., Seville, OH 44273, or Hospice of Medina County, 5075 Windfall Rd., Medina, OH 44256.

Carolyn Jane Walden (nee Cauffield) On Carolyn by Susan Happ on Facebook

, Dec 17

"Carolyn and her Mother, Jane Cauffield contributed greatly to the American Saddlebred industry by breeding many horses thru the years. My first Saddlebred, Elegant Roxie, by Spindletop Bourbon and out of one of Jane and Carolyn's favorite mares, Meadow Elegance, was bred and raised by the Cauffield's. After her own show days were essentially over, Carolyn was often seen at local shows helping friends get their horses to the show ring. A very kind and giving gal."
Paul Lee Snyder


( June 14, 1974 - September 20, 2016 )

Paul Lee Snyder was born on June 14, 1974, in Laurel County, Kentucky, the son of Paul Edward and Amanda Campbell Snyder, who survive of London.

He is also survived by two children, Sarah Snyder Harrison and husband, Robert, of London and Paul Lee Snyder, Jr. of Greenville, Tennessee, five siblings, Sheila Ann Smith, Denny Snyder and wife, Jamie, and Ricky Dale Snyder, all of London, Edward Lynn Snyder and wife, Kimberly, of Lily and Timothy Brian Snyder and wife, April, of Keavy, three grandchildren, Robert Harrison III, Melia Joyce Harrison and Hunter Wayne Harrison, his girlfriend, Candy Gierke, several nieces and nephews, plus a host of other friends and relatives to mourn his passing.


He was a horse trainer and was of the Pentecostal faith.


Paul Lee Snyder departed this life in Mansfield, Ohio, on Tuesday, September 20, 2016, being 42 years, 3 months and 6 days of age.


Memorial donations are suggested to Bowling Funeral Home to help with the funeral expenses.

Sherman Denny Hafer, 73, passed peacefully in his home in Stow, OH, August 29, 2016.

Born in Philadelphia, PA, he was a lifetime area resident, a US Navy veteran and enjoyed various careers, including 20 years with Carr Bros. Concrete, 5 years with Tackett's Marathon and 7 years with Federated Auto Parts. Mr. Hafer was an avid outdoorsman, enjoying his time as a steward for the Summit Co. Fair, deer hunting each and every year in Pennsylvania, fishing on Lake Erie and boating with family and friends on West Branch and Lake Milton. Sherman dedicated his life to maintaining and providing a farm/ home to raise his family and to provide sanctuary to animals of all kinds.

Preceded in death by his parents, Lloyd and Mildred; and brother, Tyrone; he is survived by his wife of 54 years Cheryl; daughters, Shelley Mateja and Shannon Hafer; grandchildren Michael (Chelsea) Hafer, Heather and Hannah Mateja; great-grandchildren Colby, Cheyenne and Michael; sisters Yula (Jerry) Kish and Sandy Hafer and brother Larry (Carolyn) Hafer.

The family would like to extend their thanks to the medical staff at UH Portage for their care the past months and a special thanks to Dr. Benajmin Prestegaard for his continued care for many years.

Funeral service Friday 7 p.m. at Redmon Funeral Home, where friends may call from 4 p.m. until time of service. In lieu of flowers, memorials may be made to the family or to the Lupus Foundation of America, 12930 Chippewa Rd., Suite 4, Brecksville 44141.
Victor Kenyon Farr June 10, 1943 - July 27, 2016

Born to parents Warren Wightman Farr, Sr. and Joan Kenyon (Norbert) Farr in Lakewood, Ohio, Victor Kenyon Farr enjoyed a childhood living on the shores of Lake Erie and was a 1961 graduate of Lakewood High School. He would spend his 40-year professional career as V.P. of Parts and Supplies at Refrigeration Sales Corporation, founded in 1945 by his father. A longtime member and former president of ARW (Air Conditioning and Refrigeration Wholesalers) he made many friends in the business along with those he employed at Refrigeration Sales Corp; many of which were not only valued employees, but lifetime friends.

Father and son shared another business, and passion as well, in the family's Farrview Farms located in Brecksville, where Vic's profound horsemanship skills, keen sense of the American Saddlebred business and superb eye for a good horse led to many successes beginning in his boyhood. Farrview Farms won top awards in show rings across the United States for several decades and made many significant contributions to the breed where their champion bloodlines are still seen in today's pedigrees. The love of the American Saddlebred horse was passed onto the next generation through his daughter, Courtney, who still participates in show competitions.

The United Professional Horseman's Association, The American Saddlebred Horse Association, and the Buckeye Futurity were among the many organizations Vic donated his time, talents and other resources. An honorary Kentucky Colonel, Vic lived a life filled with pride of country. Later, Vic would expand his horizons and venture into the world of traveling. He was an avid collector and connoisseur of fine cars and California wines. Despite never having learned to swim, he enjoyed boating and was a longtime member of Lakeside Yacht Club of Cleveland. Sharing his time between homes in Northeastern Ohio and South Florida, Vic especially appreciated escaping blustery Ohio winters.

He is survived by his wife, Jennine (Pastva) and faithful, furry companion, Harley. The family continues on through his children, Courtney (Farr) Cassidy (Jason); Victor Kenyon Farr, II (Michelle); Kristin (Fiorentino) O'Malley (Tim) and Patricia (Fiorentino) Conte (Ralph) and grandchildren, Logan, Grayson, Bailey, Seamus, Michael, Maggie, Casey, Reilly, Liam and Kathleen. Other survivors include first wife, M.J. Farr, mother of Courtney and Victor; a sister,Carol Webb Filak (Jack) and a brother, Warren "Hap" Wightman Farr, Jr. (Mary.)

Vic was predeceased by wife, Kathleen (Cunningham) Farr, mother of Kristin and Patricia, as well as his parents. Born on June 10, 1943, he enjoyed 73 years of successes in business, hobbies and interests that were many. He peacefully departed on July 27, 2016, from a lengthy illness. He will always be in our hearts.

RICHARD C. GIACHETTI age 75, long-time boxing trainer for Larry Holmes, Mike Tyson, Buster Douglas, passed away February 3rd.

His daughter, Victoria, started riding at Vantage Point with Kathi Hummel where she showed Walk/Trot. They purchased Callaways Bon Bon while at Vantage Point. They later were with Cape Cod and their last trainers were Lonnie and Renee Lavery of Richlon Farms.

Loving father of Annette Izsak (Jeffrey), Richard G., Victoria and Antonio. Cherished grandfather of Megan Huth (Jeremy), Alex Izsak, Ella Hixon, Wesley Hixon and Anna Lisa. Great grandfather of Katie, Thomas and Collin. Dear brother of Pat, John and Robert Giachetti and the late Margaret Ann Early. Also survived by many nieces, nephews, cousins and friends, especially in the boxing world.

Giachetti was such an expert in the boxing game that he was signed by Sylvester Stallone as a technical adviser for Rocky IV. In an Associated Press interview, Stallone talked about Giachetti's training methods.

"Richie taught me how to collect my feet, how to throw my weight into the hook, the right hook ... And Richie's specialty is, he is very conscious of the footwork and the jab. I think he'As really extraordinary. He taught me more about boxing than anybody."
Frank G. Pistora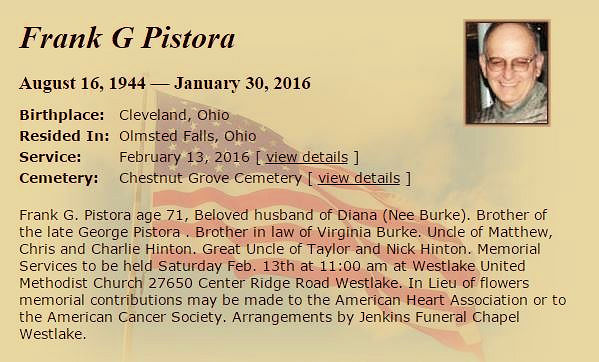 Russell Chester
Russell Chester, 94, of Wakeman, passed away Saturday, January 23, 2016 at Stein Hospice Care Center in Sandusky. He was born March 10, 1921 in Avon and had lived in Wakeman since 1957.


He was a graduate of Avon High School and received a Bachelors degree in Economics from Baldwin-Wallace College. He served in the U.S. Army Air Corps during WWII. He was shot down and was a Prisoner of War at Stalag 17B in Austria for a little more than two years.

He was active with the Barbed Wire Buckeyes, which was an Ohio POW group. Following the war he worked for American Airlines for over 25 years. In his retirement years, he worked with his wife at Chester's Tax Service in Wakeman. He enjoyed horses and was a past president of the Ohio Palomino Horse Association and also past president of the Golden American Saddlebred Horse Association.


He is survived by his son, Russell (Pam) Chester, Jr. of Medina; Megan Pickett of New London; three grandchildren; five great-grandchildren and many nieces and nephews.


He was preceded in death by parents, Albert and Stella Chester; wife, Betty and siblings, Marjorie Prindle, William and Albert Chester, Jr.


Friends and relatives may call Saturday, February 6, 2016 from 11 A.M. until the time of services at 2 P.M., at the Morman Funeral Home, 16 Cooper Street, Wakeman. Burial will follow at Wakeman Cemetery.


Online condolences may be left at mormanfuneralhome.com


Memorial contributions may be made to the Red Cross or the Huron County Humane Society.